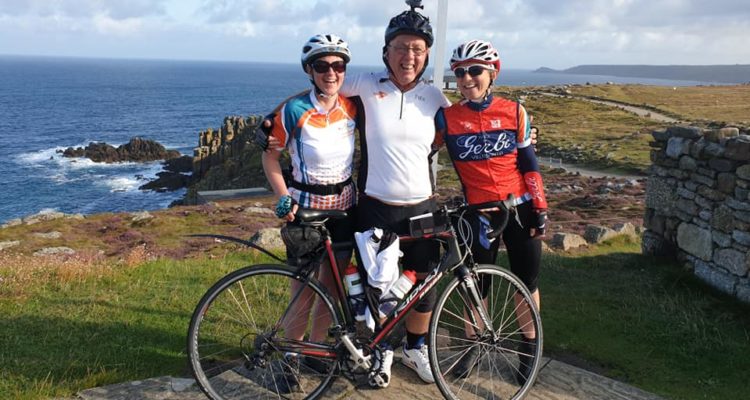 Kevin Browne – one amazing part of the BLS Team
There's a lot to be said for Dancing and how fit it gets you BUT Kevin not only Dances and teaches Modern Jive he thinks nothing of jumping on his bike and popping in a quick 100 miles during training, by the way did I also mention he's only 65.
When we talked he did remind me several times that he is very very fit, I thought well he can't see me so how does he know I could do with losing a few pounds by getting out on my bike. But that's how I felt, his enthusiasm, passion and drive gushed from him.
Kevin combines all that with raising money for Multiple Sclerosis (MS) and Last year did the Land's End to John O'Groats challenge – here's what it takes;
Land's End to John O'Groats in Kevin's words
On the 10th August 2019 I started my LEJOG cycle to raise money for the MS Society. I chose the MS Society because my son Ross has recently been diagnosed also my niece Trisha Kerins has MS. I also did the cycle in loving memory of my son Marc who passed away suddenly in 2016. I actually did the cycle in an old pair of Marc's shoes which attracted lots of comments along the way.
I have been cycling for 8 to 10 years just to try and keep myself fit. Once I decided to take on the LEJOG challenge I knew I would have to do lots of training. I started my training on the 1 Jan 2019 and by the start date of the 10 Aug 2019 I had completed 5,600 miles in the saddle. I did most of my cycling in Richmond Park and in Surrey where I regularly cycled Box hill and the tough Leith hill. During this period, I did 7 cycles over 100 miles with my 2 longest ever cycles of 137 and 151 miles (in one day)! To help with my fund raising I put lots of photos of the places I cycled on Facebook which attracted a lot of interest. I work for a company called CEROC which teaches people how to dance so dancing was another big part of my training. I have to thank CEROC and the whole of the dance community for their support. I must also express my gratitude to Johnny Fieldhouse and all at Blue Light Services for sponsoring my jerseys and their fantastic donation and also a huge thanks to everyone who supported and donated.
I arrived at Land's End on the 9 Aug where we had a pre start dinner and a chance to meet the other 12 cyclists doing the trip. I can honestly say they were the nicest group you could wish to meet. They were made up of 2 couples from Australia, 1 couple from South Africa, 1 from Italy and the rest of us from the UK.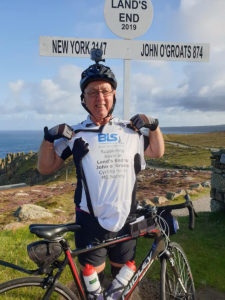 Day 1 Land's End to Fowey –  64 miles
Saturday 10 Aug 2019, the first morning started with photos at the iconic sign post at the beautiful Land's End. The sun was shining brightly as we started on our iconic trip. This was a pretty tough first day with lots of short sharp climbs on pretty busy roads, the sea views along the way amazing
Day 2 Fowey to Moretonhampstead – 63 miles
This was by far the toughest day of the trip with hills that seemed to go on forever and to make matters worse it rained very heavy till midday. Fowey is a beautiful place. To leave Fowey we had a short ferry trip and then a 20% hill climb that was nearly 3 miles, so lots of grunting and swearing. Because it was so wet and the roads were very narrow this made it very dangerous going downhill but the views on our way to Plymouth were fantastic.
Leaving Plymouth, we had 27 miles of climbing to get to Dartmoor National park. We were very lucky because the weather was quite nice by the time we arrived in Dartmoor, not a place you want to be cycling in bad weather. Dartmoor has lots of wild ponies and we were lucky enough to see one giving birth to a beautiful foal on the roadside. Cycling through Dartmoor is tough, big hills and lots of cattle grids which are dangerous to cycle over. On leaving you just have to stop and look left, Dartmoor Prison stands, a great big grey stone cold slab of a building famous for housing some of the most dangerous prisoners in the UK.
All the effort that I put in to training for this cycle really stood by me today.
Day 3 Moretonhampstead to Street – 70 Miles
The day starts with a punishing climb not helped by lashing rain, then the next 20 miles just get worse, worse hills and worse swearing, navigation through Exeter and the narrow country lanes also a nightmare. We had an early lunch today in the beautiful Old Drewe Arms pub in Broadhembury. After lunch it's a 1 mile 20% hill climb known locally as the BEAST and after that's its head down for a pretty easy 35mile cycle to Street.
Day 4 Street to Monmouth – 65 miles
Another day of heavy rain and dangerous conditions. Our first stop the Cathedral city of Wells but because of the rain we did not hang around. The weather was still bad as we headed for Bristol and crossing the Clifton suspension bridge. From here the route gets very tricky going through some very narrow paths as we head to Wales. The highlight of the day was crossing the Severn bridge, 1mile long it was very windy and it rocks a lot making it quite scary but great fun. Today we laughed so much.
Day 5 Monmouth to Clun – 58 miles
This is the easiest day of the trip, helped by the sunshine and lots of beautiful scenery. Really enjoying the cycling BUT at about 38 miles in the country side I got stung by a wasp just under my left eye. This caused me to panic a little as I have a bad reaction to stings and I had forgotten to take my epi-pen, I carried on cycling for about 2 miles where I stopped to ask 2 ladies for help and luckily for me one of them had a similar condition and was carrying antihistamine tablets. During lunch I got lots of ice on it but I had to wait there for over an hour just in case I went into Anaphylaxis shock, then I decided to keep cycling with my eye closing badly and only 10% vision I managed to get to the B&B ok.
Day 6 Clun to Northwick – 82 Miles
Bad night with little sleep and my left eye was totally closed with zero vision. Thursday 15 August and the weather forecast was heavy rain all day. All my group wanted me not to cycle today but I had worked so hard to get fit I was not going to miss a single mile.
We agreed the group would continue as planned and I would go see the local Doctor, who gave me 6 steroid tablets which I had to chew and take all at once (horrible). Against his advice not to cycle for 6hours I shamefully LOL got on my bike and got off, it took me 38miles before I caught up with the last 3 of the group.
Today was the hardest day I have ever put in and it lashed down all day. Very happy and proud that I completed the 82 miles safely.
Day 7 Northwick to Condor Green – 74 Miles
Woke feeling good with the swelling around my eye a lot better plus the Weather forecast is very good. Today we were cycling in a lot of built up areas, on busy roads in the outskirts of Manchester on through Bolton then on to Blackburn. This is the halfway mark.
Day 8 Condor Green to Penrith – 62 Miles
Luckily I'm back to full strength and feeling good, today there was lots of short steep hills as we headed into Lancaster, the scenery is beautiful so we kept stopping to take photos and videos. An outstanding place of beauty was coming through the Hoggill Brow in Cumbria, feeling blessed to be able to cycle through such a beautiful place.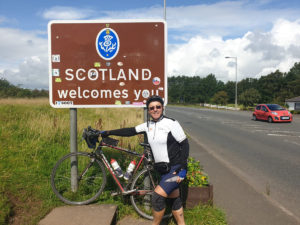 Day 9 Penrith to Moffat – 70 Miles
For the first 60 miles it was mainly flat with some downhill cycling and very changeable weather, sunshine to very heavy showers. From Penrith we head towards Carlisle. We cross the border into Scotland at the famous Gretna Green, famous for couples eloping away and getting married and still on average 2,000 weddings a year. The first thing you notice when you enter Scotland is how bad the road surface is for cycling, it's very tough on the backside, you will also notice lots of Castles and Whisky Distilleries.
Day 10 Moffat to Kinross – 81 miles
Today started wet and just got wetter, leaving Moffat you have a 6 mile climb so a tough start but when you got to the top the views were amazing. After 50 miles we were on the outskirts of Edinburgh, the rain was torrential. Edinburgh is a beautiful city with lots of fantastic buildings and of course the Castle, cycling through the city was risky with a dangerous combination of cobbled streets, tram tracks and driving rain, unfortunately one of our group had a bad fall that needed 10 stitches and alas ended her trip. Leaving the city we headed for the Firth of Forth bridge and because of strong winds quite dangerous, then it's on to Dunfermline, Cowdenbeath and very happy to reach Kinross.
Now getting used to being cold and wet, you have to be a little crazy to cycle on days like day 10.
Day 11 Kinross to Ballater – 82 Miles
Today we crossed the river Tay in Perth, just past Perth racecourse you cycle down a beautiful mile long tree lined avenue, planted to celebrate Queen Victoria's 18th birthday.
On through some beautiful countryside to Blairgowrie, from here it's the most physically challenging as we enter the Cairngorms with every hill a monster climb but the scenery is amazing. This is energy sapping cycling as we head up towards the ski slopes in Glenshee, along the road side there are lots of 10ft high poles these are to measure the depth of the snow. This road is the highest tarmacked road in the UK and mile after mile of amazing countryside, this is the one part of the trip I will come back to cycle again. Then it's on the Queens Estate at Balmoral. Great feeling to know that I was fit enough to complete todays challenge, well done everybody.
Day 12 Ballater to Inverness – 73 miles
When we started we were told that day 2 and 12 were the toughest and they're right, an amazing days cycling and without doubt the toughest day on the saddle I have ever done. You arrive at a village called Cockbridge and once you go past this, it is HELL. Starting with a 20% hill that goes on for about 2½ miles, a truly amazing challenge to be able to cycle to the top without walking (did have to zigzag parts). This area is called the Lecht then you descend to Tomintoul back into the Cairngorm mountains, the hills are very steep and long with no level parts and coming down these hills is very dangerous because of the strong crosswinds you are up so high its freezing. You see lots of ski resorts and castles, the scenery is beautiful. You really get a great sense of achievement in completing day 12.
Day 13 Inverness to The Crask – 68 Miles
Today was a pretty easy mostly flat. The highlight of today was a place called the Falls Of Shin, these are waterfalls where you can watch the salmon leaping, pretty amazing sight to see them trying to get up stream. This is a very beautiful but bleak place, we cycled for over 20 miles without seeing a single person, car or house. Then in the middle of nowhere there is a pub called the Crask Inn where we all stopped for a drink and some photos.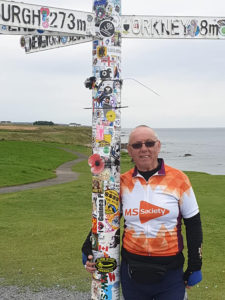 Day 14 The Crask to John O'Groats – 82 Miles
Friday 23 August last day of this great adventure. Started following the road to Altnahara and alongside Loch Naver then through an area known as Strathnaver. Some amazing views over Pentland Firth, after Bettyhill there is a difficult hilly section along the stunning coastal road to Thurso then it's a pretty flat 40 miles to John O'Groats.
All done – a total of 1034 miles cycled in 14 days, no rest days, every inch cycled despite NINE days rain and a wasp sting!
A special thanks to Peak tours and their two great guides Jim and Dave.
Plans for the future
During times when he can't ride for fund raising he sets himself secret goals and tells no one but he did let slip that in April he challenged himself to 3,300k in 28 days that's from Land's End to John O'Groats and back – he did it in 26 WOW!
In these difficult times plans change at any moment but Kevin remains optimistic, the Corona Virus at present has squashed his MS Fundraising plans for 2020. His cycle was supposed to start on the 15 July with an old school friend Fintan Rooney who got back in touch only 2years ago and on staying in contact discovered they had a passion for a long distance cycling – they planned and organised London to Paris, 2 days around Paris and 6 stages of the French Alps in 6 days returning to do the West coast of Ireland cycling from Mizen Head up along the coast through our home town of Crossmolina. Co Mayo before heading to Malon Head.
It now looks like this will be put back till 2021 due to the virus however but with Fintan he is working on a plan to cycle New Zealand in November 2020 and do bottom to top or is it top to bottom?
If you would like to donate please go to Just Giving and search Kevin Browne – every penny raised goes to the MS society and he pays all his own expenses. He also has some great photos and videos on Facebook so please feel free to send a friend request so you can have a look…
Here's a little bit about MS
Multiple Sclerosis (MS) is long term condition that affects the Central Nervous System located in the brain, optic nerve and spinal cord. It is a complex condition that has various and many symptoms, such as Neuropathic Pain, Fatigue with cognitive problems that affect mood, speech, balance, bladder and bowel to name a few and they can affect the diagnosed in different severities.
That is why there are different types and therapies
Great advances have been made over the last decades to help people with the MS. Although no cure is available as yet the aim is to give the people diagnosed treatments that HALT the onset of the symptoms, Disease Modifying Therapies (DMT's). These at the moment come with different efficacies in the reduction rate and severity of relapses. They again are various, usually depending on what MS you have been diagnosed with and the eligibility is guided by NHS England and NICE.
The specialists working for and with people with MS endeavour to give positive pathways with better management of symptoms and a better quality of life usually aligned with a DMT and many other styles of social and activity therapies.
One thing is certain the complex nature, myths and types surrounding MS make it a disease with many faces, not easy to live with, not easy to truly understand and definitely not easy to put into so few words. If you want to find our more there are various sites I recommend The MS Society or The MS Trust.
If you have got this far thank you for reading and #StaySafe